Romance and comedy go great together, but they don't always have to go together. Sometimes, you just want to laugh. And other times, you want to feel the romantic stirrings without jokes getting in the way of your yearning and swooning. Sometimes, you might even be in a mood for a movie that starts with a sweeping kiss, but ends with you crying into a box of tissues. (Sad movies can be romances, too!) And unfortunately, while rom-coms on Netflix may have ushered in a new era of Peak Romantic Comedy, those of us looking for new straight-up romances are drastically underserved. Still, that doesn't mean there isn't an epic love story or two if you know where to look.
Thankfully, most of the best romantic movies of all time are still available to stream. While this list is not entirely devoid of jokes, their primary job is not to make you laugh. It's to give you all those other good, romantic feels, to show you the grand kisses, to make you pine for that far-away lover and to break your heart in the cases when it all doesn't work out in the end.
The Photograph (2020)
This movie is really two romances in one: The film follows Mae (Issa Rae) in the present day, as well as her mother, Christina (Chanté Adams), in the past. Is romantic history doomed to repeat?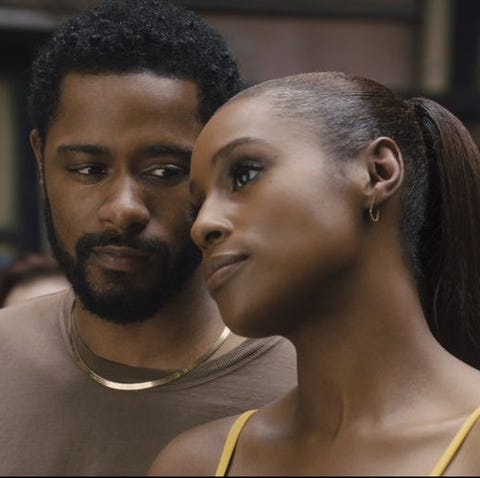 Portrait of a Lady on Fire (2019)
This film-festival favorite, which was nominated for a slew of awards at the end of 2019, follows a woman who is commissioned to travel to a remote island to paint a portrait of a woman as part of an arranged marriage; of course, she falls in love with her subject, and a forbidden romance ensues.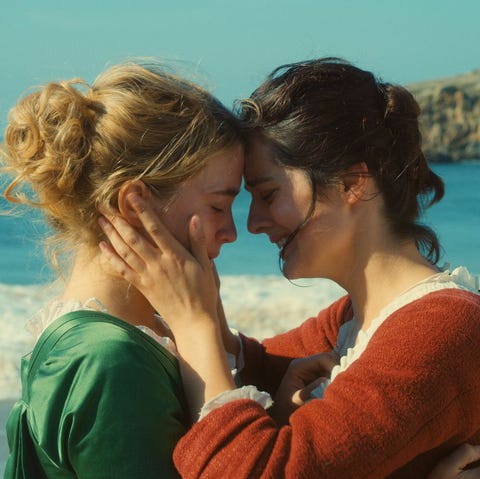 A Star Is Born (2018)
If you're looking for a story about people brought together by talent and torn apart by fame, you can watch a number of takes on A Star Is Born: There's the 1937 original with Janet Gaynor and Fredric March, the 1954 version with Judy Garland and James Mason or the 1976 remake with Barbra Streisand and Kris Kristofferson. But only the most recent one, with Lady Gaga and Bradley Cooper, has a performance of the heart-rending song "Shallow."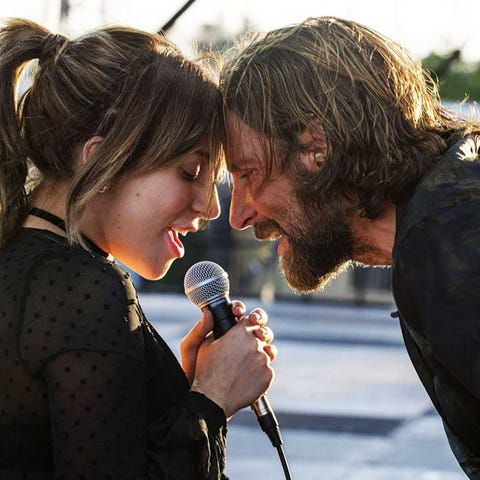 If Beale Street Could Talk (2018)
From Barry Jenkins — director of Moonlight, which is its own sort of romance — comes this James Baldwin adaptation. It's about a couple, madly in love and expecting a child, whose relationship is upended when one of them is accused of a crime he didn't commit.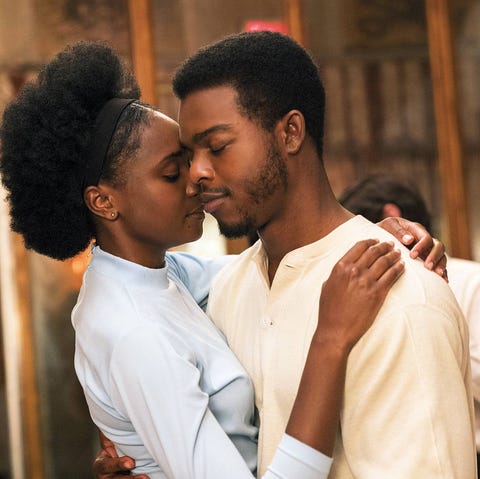 Anna Karenina (2012)
Playwright Tom Stoppard adapts Leo Tolstoy's celebrated novel, with director Joe Wright giving the story new visual twists and turns that make it almost seem like a theatrical production more than a movie. The story follows the upper-echelons of Russian society, and how affairs of the heart can change a person's social standing.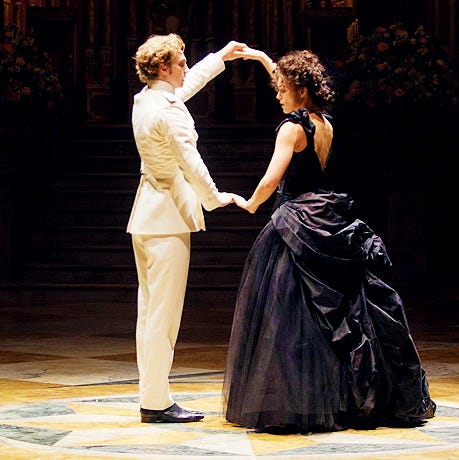 The Vow (2012)
This movie is based on the amazing true story of real-life couple Kim and Krickett Carpenter; after a tragic car accident, she loses her memory, and he has to find a way to make her fall in love with him all over again.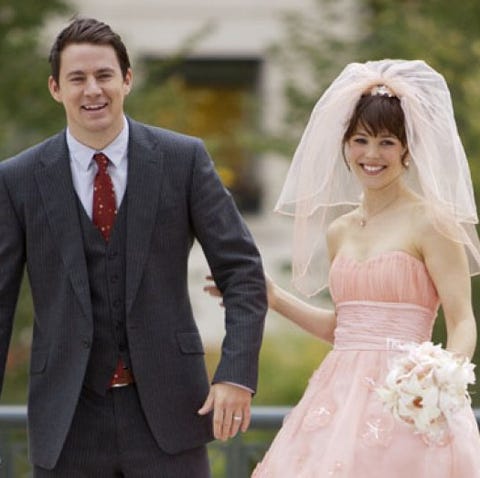 Lust, Caution (2007)
Director Ang Lee went for a different take on romance with this Chinese-language erotic thriller. The film's about a woman in 1930s Hong Kong who acts as a intelligence agent, but falls for her mark. It gained notoriety when it was released for its NC-17 rating.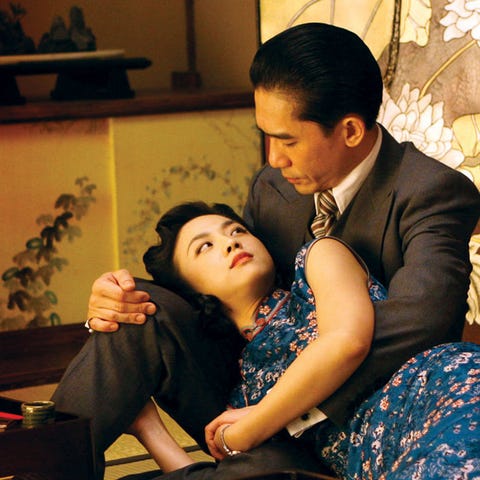 The Notebook (2004)
Based on a novel by Nicholas Sparks, this romance spans decades, flipping between a couple's first blush of love in the '40s and the present-day reality of how that relationship has transformed in old age. And while that may be moving, we sometimes forget everything that happens after Ryan Gosling and Rachel McAdams' rain-soaked kissing scene.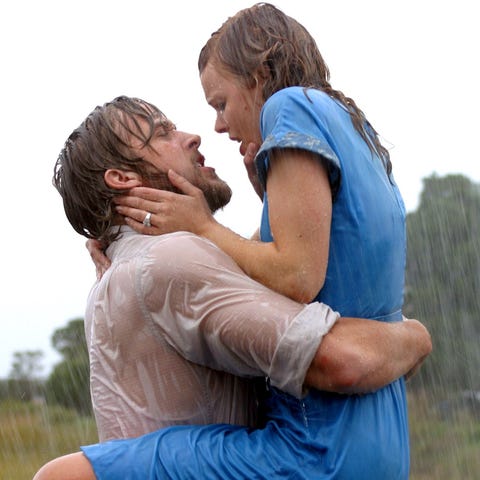 Eternal Sunshine of the Spotless Mind (2004)
This movie breaks all the rules for romances, starting after the central couple has already broken up. Joel (Jim Carrey), still reeling from heartbreak, seeks out a procedure that'll erase Clementine (Kate Winslet) from his memory. The resulting trip through his mind, and memories of his past with Clementine, result in something more poignant than a straightforward rom-com could provide.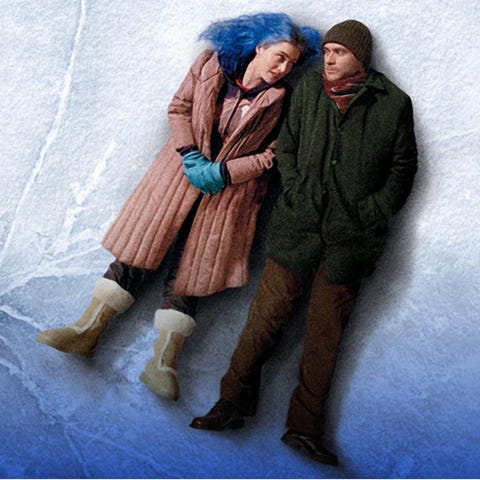 Moulin Rouge (2001)
Love is a many splendid thing. Love lifts us up where we belong. All you need is love. Through a remix of these song lyrics (and many others), director Baz Luhrmann's fast-paced movie musical reminds everyone of what's most important in the world: freedom, beauty, truth and, above all things, love.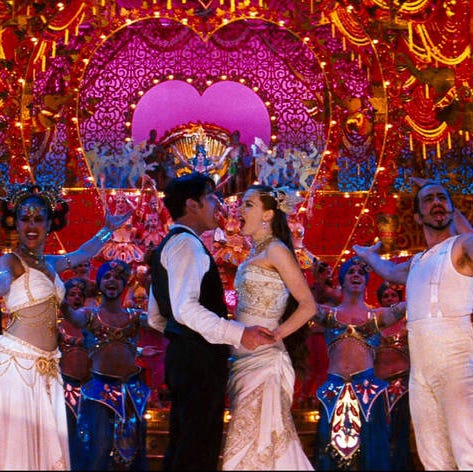 Monsoon Wedding (2001)
Here, lots of romances unfold against the colorful backdrop of a lavish wedding in Delhi. Director Mira Nair is no stranger to well-done love stories, having made a splash with the Denzel Washington-starring Mississippi Masala in the '90s.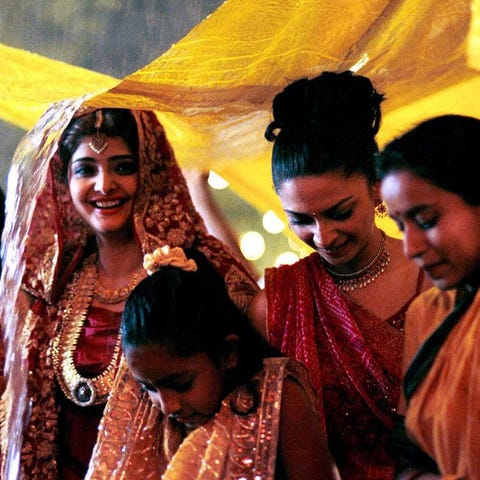 Love and Basketball (2000)
You don't have to be a sports fan to get into the story of Quincy (Omar Epps) and Monica (Sanaa Lathan). They're two childhood friends and sweethearts who are into each other, sure — but both have greater ambitions to pursue careers in basketball. Can their romance survive the competitiveness?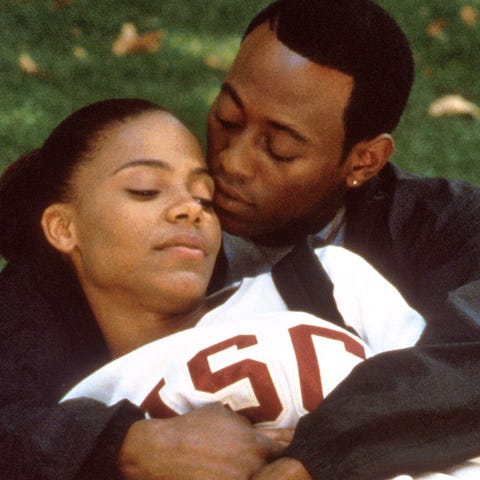 Titanic (1997)
Titanic has all the makings of a boilerplate love story: Jack (Leonardo DiCaprio) is from the wrong side of the tracks, Rose (Kate Winslet) comes from high society, and they meet by chance and fall in love. But set against the spectacle of the sinking of the historic ship — and with greatest-love-song-of-all-time contender "My Heart Will Go On" in the background — like Jack, this movie moves beyond its seemingly plain origins.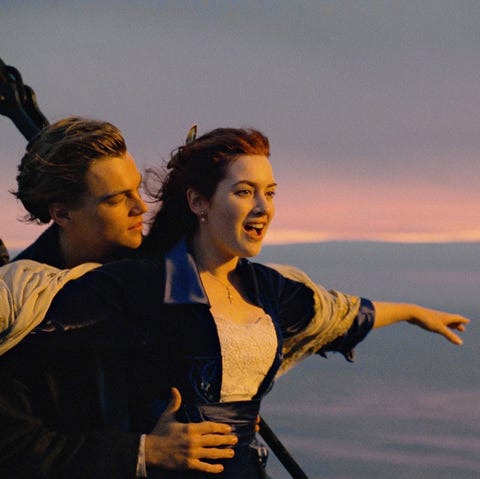 Pride and Prejudice (1995)
Like A Star Is Born, there are so many adaptations of Jane Austen's Pride and Prejudice, including a 2005 version with Anna Karenina director/star Joe Wright and Keira Knightley, and Bride and Prejudice, a 2004 adaptation with a Bollywood twist. But true fan's hearts are with the 1995 BBC mini series starring Colin Firth and Jennifer Ehle. It's not a technically a movie, sure, but you have all day to sit on your couch and watch it, right?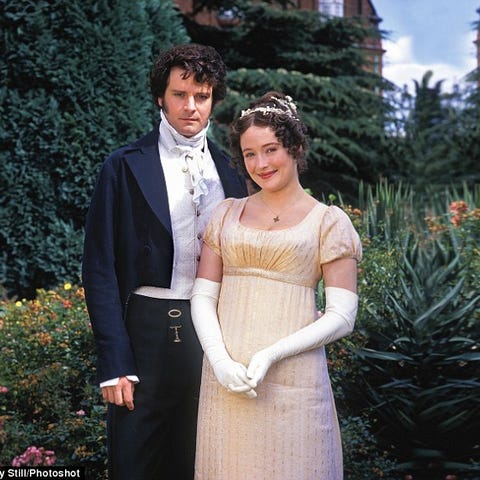 Before Sunrise (1995)
Director Richard Linklater pulls of a remarkable feat with this casual film: the entire relationship unfolds as the two main characters walk around a European city, just chatting. It proves that great romances don't have to be so emotionally wrought. The film spawned two sequels, Before Sunset and Before Midnight, which follow the same couple.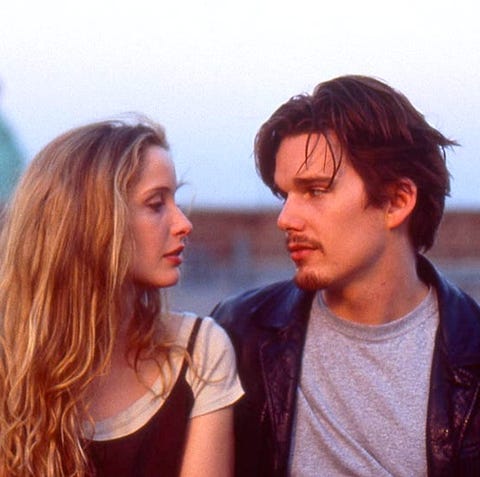 The Bodyguard (1992)
There is absolutely no way to watch this movie without standing up off the couch, lifting your arms in the air and singing, "And I will always love you." The movie itself is almost beside the point.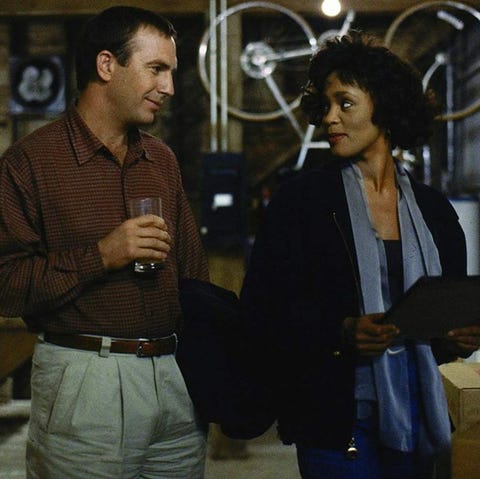 Dirty Dancing (1987)
One of just three movies (and the only romance) to be included in the first round of Netflix's The Movies That Made Us docu-series, Dirty Dancing tells the story of Baby (Jennifer Grey) and her fateful trip to the Catskills where she meets resort worker Johnny (Patrick Swayze). Their relationship sparks scenes that are still fresh in the mind of every '80s kid, from "the lift" in their dance scene to the great, "Nobody puts Baby in a corner" moment.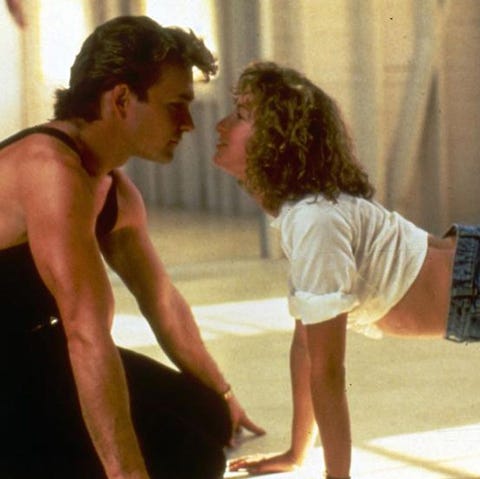 An Officer and a Gentleman (1982)
When people think of a Richard Gere romance, Pretty Woman immediately comes to mind (which was DQed from this list for being a romantic comedy) — but no one should overlook his earlier, swoonier turn in An Officer and a Gentleman. It'll have you singing "Up Where We Belong" on a loop.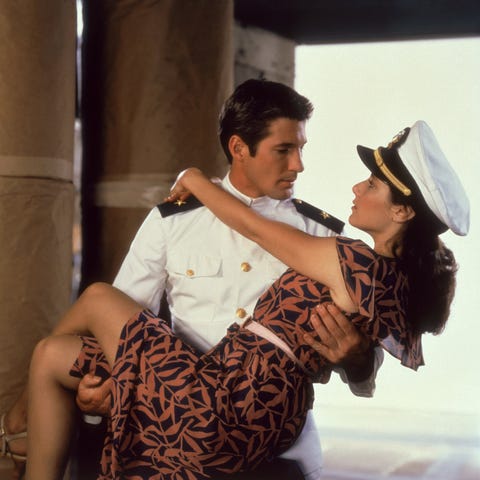 Mahogany (1975)
This film stars Diana Ross, and was directed by Motown legend Berry Gordy. In it, Ross plays Tracy, an aspiring fashion designer who is caught between Sean (Anthony Perkins), a jealous and demanding fashion photographer, and Brian (Billie Dee Williams), a local activist who wants Tracy to support his political career.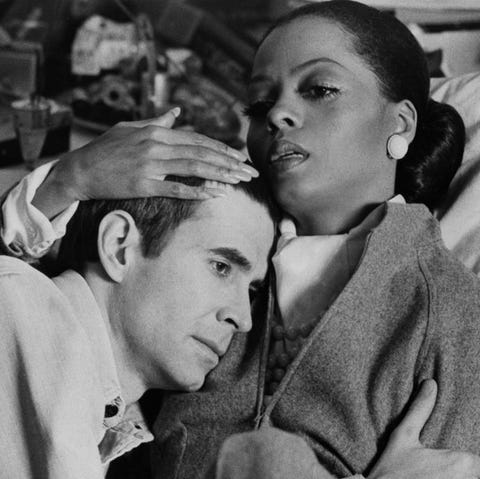 The Way We Were (1973)
It's Barbra Streisand and Robert Redford at their most charismatic, living out an opposites-attract romance during the era of McCarthyism. Try to watch it without getting the Streisand song stuck in your head.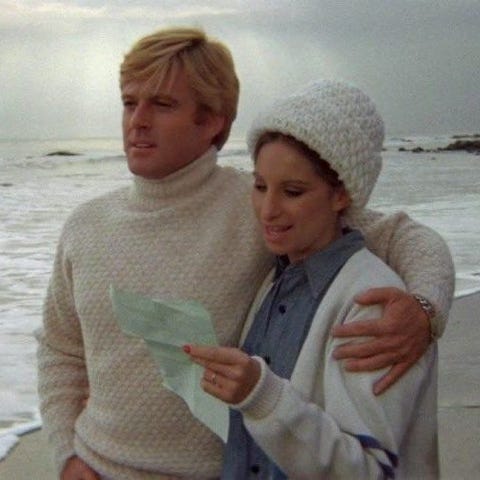 Love Story (1970)
For those who want to watch their romances with a big box of guaranteed-to-be-used-up tissues, Love Story is the perfect weepy romance. It's also notable for gifting us the phrase, "Love means never having to say you're sorry."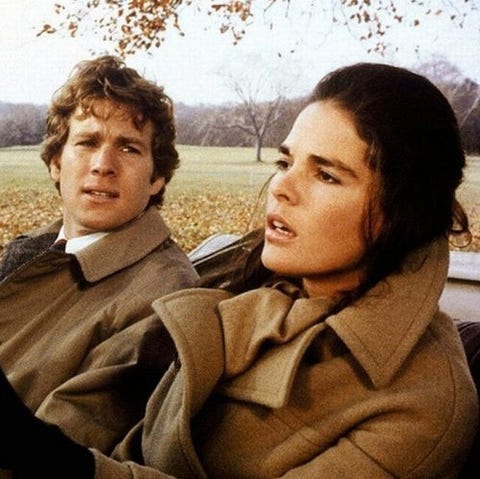 The Story of a Three-Day Pass (1968)
This movie follows the drama that ensues when an African American soldier strikes up an affair with a white Frenchwoman during his three-day leave. It's directed by Melvin Van Peebles, but in a more French New Wave style than what he was known for from his other movies, like Sweet Sweetback's Baadasssss Song.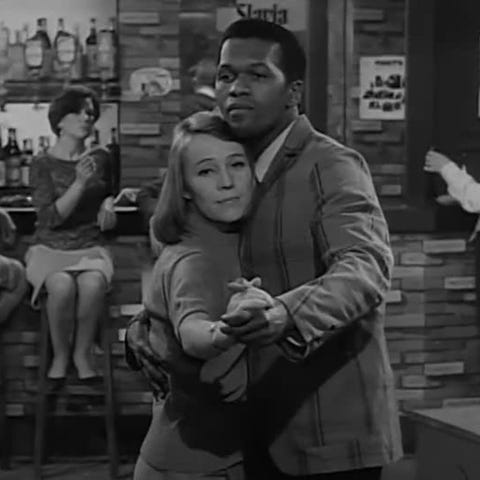 Splendor in the Grass (1961)
It's Warren Beatty's first film role, and he gets to star opposite a radiant Natalie Wood in a romance that takes place at the end of the '20s and the beginning on the '30s, focusing on how society's views at the time shape their relationship.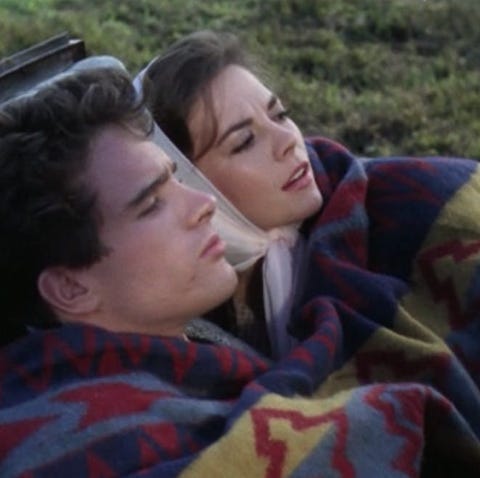 An Affair to Remember (1957)
Any Sleepless in Seattle fan knows the premise of this one: When our two lovers meet, they're involved with other people, so they make a plan to meet at the top of the Empire State Building in six months if they still have feelings for each other — only tragedy keeps the meeting from happening. Bring the tissues, if you have any leftover after Love Story.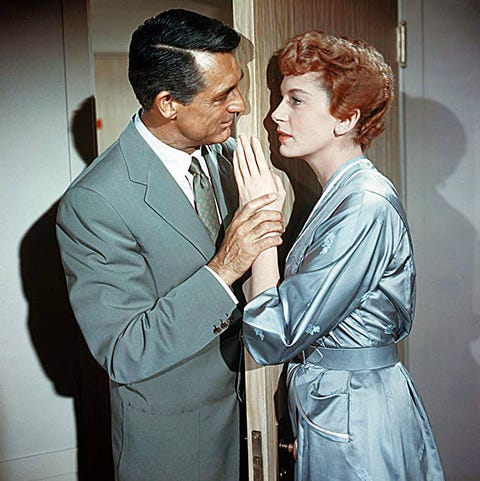 Roman Holiday (1953)
Roman Holiday features Audrey Hepburn in her first starring role — and she brought home an Oscar for it. She plays a princess who decides to go sightseeing on her own in Rome, where she meets a newspaperman (Gregory Peck) who doesn't reveal that he knows her true identity. Does he get a scoop — or something greater? Either way, the locations are enough to make you want to book a trip to Italy pronto.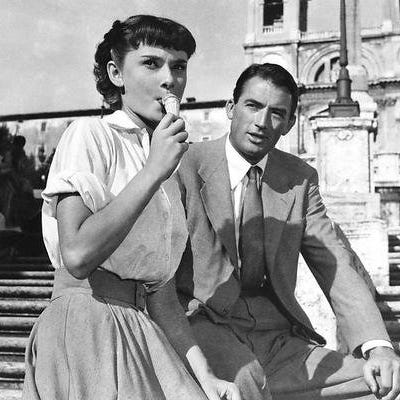 Casablanca (1942)
An old flame. An exotic location. A familiar tune on the piano. If you haven't seen Casablanca, you know you'll regret it. Maybe not today, maybe not tomorrow, but soon and for the rest of your life.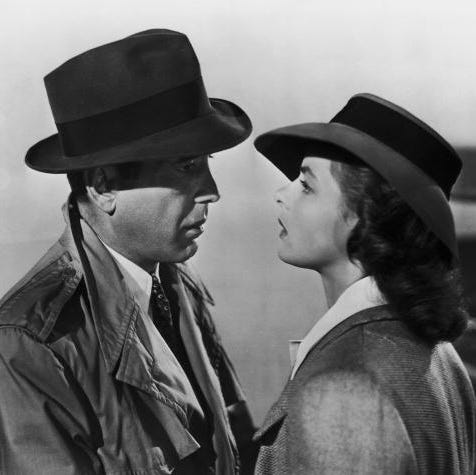 If you don't see your favorite on the list, let us know about it in the comments!
Culled from goodhousekeeping.com