British actress and model Jodie Turner-Smith and her husband, Canadian-American actor Joshua Jackson have mentioned that they exchange high fives regularly to congratulate each other on choosing such awesome partners.
"I think it's really beautiful to be with someone who is so supportive and so loving," Jodie said of her husband in a recent interview with People. "We're so similar in so many ways. We're like mirrors for each other. And I just really love that human being."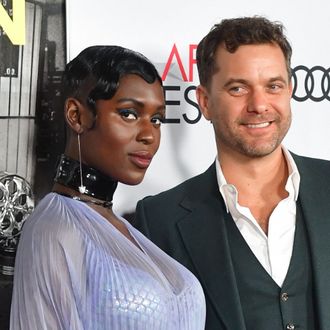 While some couples might show their love for one another by cooking their favorite meal together or asking each other about their day, Jodie and Joshua have a unique and immensely adorable tradition. "We high five each other all the time about how great we chose," the Queen & Slim star said. "We're like, 'You did a great job choosing,' and then we're like, 'Yeah, you too.'"

In a post on May 10, 2020, Joshua shared a photo of Jodie holding their then-newborn daughter, Janie Jackson. "Dear Jodie, On this most special of mothers days I want to thank you for the being the light that you are [sic]," Joshua captioned the photo. "For the the passion with which you threw yourself into nurturing and protecting our child when she was in your womb. For the dedication and will you showed bringing her into the world . . . I love you. I love seeing you enter the pantheon of mothers. And I look forward to walking this path by your side as we nurture this little engine of joy you have blessed the world with."

It's been nearly one year since Jodie and Joshua welcomed their first child into the world, and we expect they have shared many sweet high fives since (and have many more to look forward to).
Culled from Pop Sugar